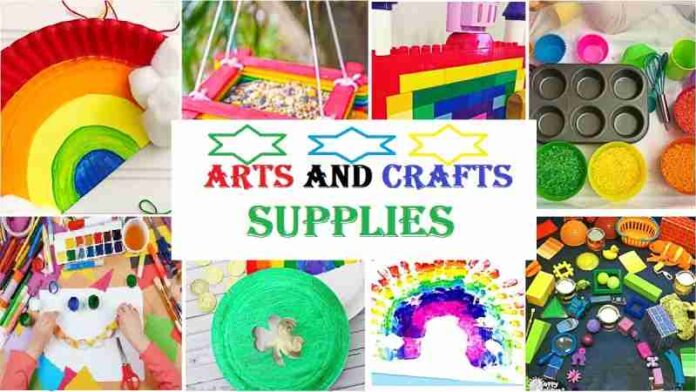 The arts and crafts industry is an emerging niche with extended roots in various supplies, skills, and creativity. Several leading websites sell Arts and Crafts Supplies, handmade craft items, and much more. In addition, the niche is prospering on platforms such as eBay, ETSY, Artfire, and many more that offer clients a great place to showcase their skills and creativity.
With the recent advancements in the eCommerce marketplace, it is considered the most emerging niche with good selling all around the globe. So now, let's dive deep into why people are interested in buying arts and crafts products.
5 Reasons for the Popularity of Arts and Crafts Supplies
Arts and crafts have various uses, from simple home decor items to creative and unique gifting ideas. In addition, art supplies are commonly used in household, home decor, and wearables. Here is why this industry has so much potential and is still emerging.
1: Art Therapy
People love playing with arts and crafts supplies, including colors, threads, paper, etc. Art and creativity is a therapeutic approach that helps in unwinding and offers mind relaxation. Some people love making handmade items to gift others or creating articles for home decor. Making items is a time-consuming process that allows you to relax and help use your creativity for some productive things.
In addition, kids also love playing with the craft supplies, which makes their parents proud as their parents keep them engaged in something productive.
2: Green Arts and Crafts Supplies
Selling and buying arts and crafts supplies are now easier than ever. Many of the other industries manufactured in the factories emit gases that pollute the environment and other waste products. Crafting is a greener option that involves using art supplies that can deliver locally. In addition, the products are light-weight, so they are easy to transport to local areas as well.
Many drop shippers and resellers have their businesses in this niche because arts and crafts products have no return orders. The products are mostly breakage free and promote green nature and the environment.
3: The better quality that lasts long
The quality of supplies matters for homemade decor items. There are expensive options available in the market that are made with the same supplies but don't last long. One of the reasons people love purchasing art supplies is that they can easily make craft designs with fewer expenses. Browse your favorite art supplies and use your creativity to make your favorite craft pieces.
4: Diversity
The diversity of arts and crafts supplies can't be denied. There are different areas in the arts and crafts that include painting, sketching, knitting, and more. From painting to knitting sweaters and scarfs, there are diverse options for the hobbyists to use the supplies. In addition, the wholesale distributors and suppliers have much more to offer with many products. Likewise, retailers, resellers, and online shops can profit by providing a wide range of art products at their stores.
5: Support locals and their skills
Purchasing the art pieces and homemade items from the artisans can charge your leg and arm. The good idea is to offer arts and supplies to the locals and let them use their skills. In this way, they will be able to develop pieces that will be cheap and made with creativity. You can then market them on online platforms and earn good profit margins. It is an emerging approach as many people are doing this and are successful in their goals.
Create Your Craft Room at Home:
Do you like to craft however you desire to have extra area? How approximately constructing your very, very own craft room? You won't understand it. However, you could create a crafting location that's only for you with the proper inspiration. Follow those four steps to creating your craft room so that you can get specific yourself comfortably.
Look for Unused Space You Already Have
Even if you don't suppose you've got an area for a devoted craft room. You can have lots of alternatives to pick out from. Look to attics that want a bit of cleansing or storage that might be was a crafting area.
One of the principal limitations for turning those areas into craft rooms is weather control. No one desires to craft in a hot, stuffy attic within the summer center. So consider putting in a ductless gadget that heats and cools your room. This choice is affordable, comfortable, and, most straightforward, calls for primary furnace upkeep to hold going for walks.
Invest in a Sturdy Worktable and a Comfortable Chair
You'll no longer need to craft if your backaches and beads spill within half an hour of beginning a mission. Too often, crafters attempt to do their paintings on the kitchen desk or withinside their circle of relatives. Here, children and pets are probably going for walks around, or you can be sitting at an uncomfortable angle.
If you don't have a devoted room, make confident your craft area has a desk reserved entirely for crafts with a chair you could loosen up in. This way, you could craft for hours without disruption.
Find Organization and Storage Solutions
The complete factor of getting your room is that you don't have to drag out your crafts to paintings on them, then position them away. However, your craft room can fast grow to be an overrun mess if you're now no longer care. So instead, add garage containers and cabinets to arrange your odds and ends. This will let you keep even extra substances; however, locate something you want quickly. Plus, your circle of relatives will thank you while they're now no longer stepping on beads or locating pins across the house.
Save Old Magazine, Sheets, and Tablecloths
Place a basket withinside the corner, and fill it with antique newspapers and unused fabric. This might be beneficial withinside the occasion in which you have a messy mission and need to restrict cleanup. From placing down the paper to accumulate glitter to using an antique sheet as your drop cloth, cleanup is plenty more straightforward while you could select out up the whole lot fast and throw it away. Also, this basket is vital if your craft location stocks area together with your workplace or own circle of relatives room.
You also can create an odds-and-ends basket with small objects you may use in a mission in the future however aren't sure what to do with them properly now.
In this way, it is not only a good idea to support the locals and their work but also helps them polish their skills. They get knowledge, experience, and exposure to the outer world and also get an idea of work that is trending.
If you are also interested in starting your arts and crafts store online and want to earn some side bucks, MY US HUB is one of the best craft supplies wholesale stores. It has various supplies, including arts and crafts, stationery items, and office accessories. Buy the art supply items in bulk at discounted rates and sell online with a profit margin.